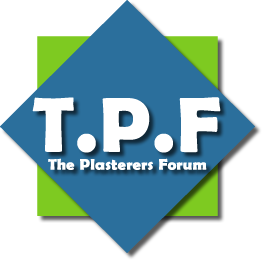 The Plasterers Forum is a community I started in 2005/2006 and it is the biggest plastering related community on the internet. I am proud of what has been built and how loyal the members are and what they have achieved in the past years it has been around.
For this reason I have invariably promised that devoted members to the Plasterers forum will always get the best prices for anything that I offer them and that goes to the point of me offering the services of Davlic Media web design and services.
For £350 I will design you a website with your own logo and graphics, I will host it for you for a year completely free of charge, and I will also throw in your .co.uk domain name in the price as well.
Every site I have built for members of The Plasterers Forum, I make sure that the site is heavily optimised for the search engines. You won't be able to get a site as optimised as this for the price from anybody else and of course of the quality that I promise. However I cannot guarantee rankings but all of your "on Page" search engine optimisation will be done.
There are lots of things you can do to help boost your rankings when I am finished and I will guide you through that when the site is complete.
I have a great reputation on The Plasterers Forum for the sites I have built for them and for the amount of work I have generated for the members who I have built sites for. I have one member who got £18,000 worth of work off his website from just one job.
If you are a plasterer, and you don't have a website, then you are leaving money on the table, and you will start to struggle in the coming years as more and more people come online to find tradesmen.
What Do You Get With Your site?
Home Page
Essential Pages
So What Do I Need From You?
I will need as much information as possible about you as possible. I always like you to write the content for the site and then I go and tweak it accordingly for the search engines.
So the content I will need is…
About Us – 350 words about you and your company, what you are, how long you have been doing it etc.
Services – 350 words about what you do
Portfolio – Photographs of projects and description of whats going on
Graphics – I will need any logos or graphics that you already use as I would like to incorporate these into the site.
If you are interested in taking me up on this Plasters Forum Members Only Special Offer then please contact me 🙂
If you would like to see examples of sites that I have created for members in the past then please take a look below
www.rivieraplastering.co.uk
www.plasterersnews.com
What Happens When The Year Is Up?
Well you can take your site away from Davlic Media's hosting and find your own hosting or you can leave it with us and just pay for the hosting which will be competitively priced. You will also have the cost of the domain name renewal as well. Or you can let the site expire, its completely up to you.
I am only offering this to members of the Plasterers Forum so please any enquiries please let me know your Plasterers Forum Username.
If you have any questions or would like more information then please contact us


www.DavlicMedia.com
+44 (01234) 90 32 33
+44 (0)7742 16 35 80