We have got many clients that we have helped over the years gain top rankings which has helped them grow their business to a size that they are happy with and with Davlic Media's help they have managed to knock their competitors off the top spot for many of their targeted search terms.
One of our clients is MK MOT in Milton Keynes contacted us 2 years ago when they decided that they needed to get their company on the internet and when they had a go at building a website themselves and got a taste of what was to come they decided to give us a call.
MK MOT had already got a few quotes from other companies who were "web designers" but they were not interested in a flashy sexy looking site, they wanted a site where potential customers could find them and get a car serviced or an MOT done in the Milton Keynes area. They were quoted by many companies obscene amounts of money for a website design and then some really obscene amounts of money for SEO services which quite frankly was not going to happen.
Davlic Media took on the job and designed a simple but very effective site targeting the motor trade and we also helped them design a logo for teh site and they now use that on all their merchandise as well. They supplied us with the basic information on what they did and what they wanted to achieve and we went away and built them a site thatw as very well optimised for teh search engines and also was going to knock there competitors off the top spot for their search terms.
Within 3 weeks we had the site up and we were ranking on the first page of google, Davlic Media have been working on this site now every month targeting more and more keywords for them and each month the site grows and takes more control over the Milton Keynes Motor trade market and MK MOT continues to grow.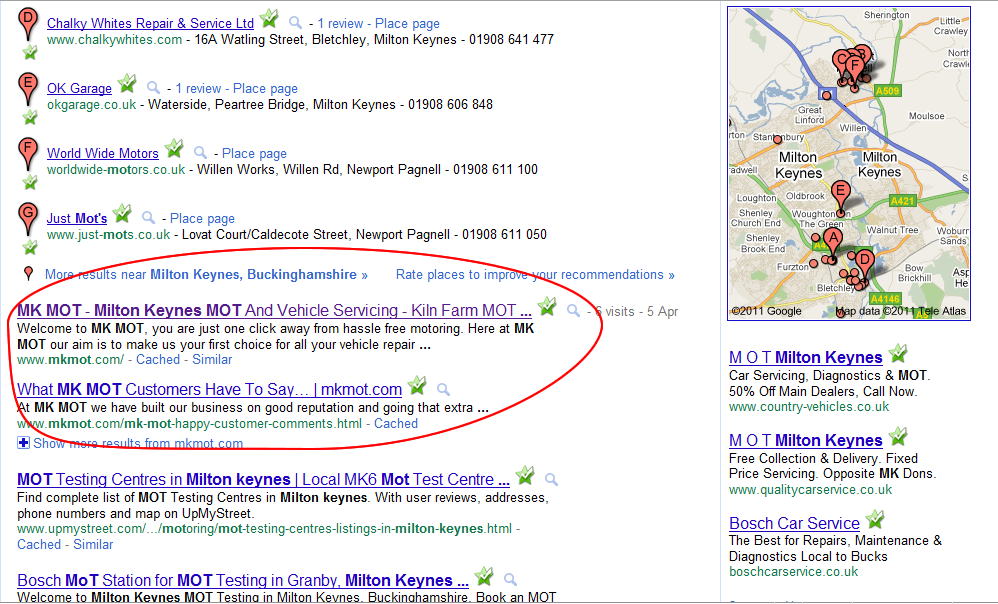 As you can see above MK MOT have both the first and second spots in google for their targeted search term
Since Davlic Media designed their site the garage has bought the unit next door and are extremely busy and by their own testament 80% of their new customers comes right from their website which is all down to its great search engine placement.
Davlic Media have also helped them develop a customer mailing list where they offer special deals and keep their customers informed about what is going on at MK MOT and this has proved invaluable to the garage. When they have a quiet couple of days ahead they send out an email to their current customer list and they pretty much instantly get bookings.
We have worked closely with MK MOT to ensure we understood their market and what they wanted to achieve and Davlic Media have exceeded their expectations and we are proud to represent them.
This is just one of our clients and we have many many more.
If you have any questions or would like more information on how we can help you and your business start dominating the search engines then please contact us.


www.DavlicMedia.com
+44 (01243) 59 67 60
+44 (0)7742 16 35 80